Welcome to
Smiles Dentistry for Kids
Our goal is to make your child's first dental experience a positive one. Whether it's a simple checkup or restorative care, Smiles Dentistry for Kids provides comprehensive gentle dental care in a comfortable and welcoming environment. We treat your family like our family!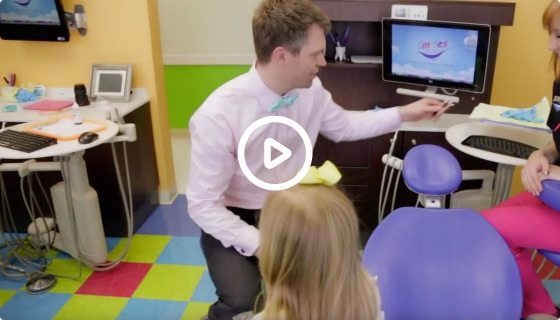 A Lifetime of Smiles
We strive to provide excellent dental care and make all of your child's dental experiences comfortable and fun.Whether it's a simple checkup or restorative care, we provide high quality comprehensive dental care through patience, understanding and compassion.
Patience
We create great smiles and trusting relationships. Dr. Matthew Hillman and his friendly team take their time with each patient and never rush through visits. If your child needs extra attention or time to adjust to a new atmosphere, he or she will get it.
Understanding
We use easy-to-understand terminology to eliminate confusion when your child visits us. We want to make sure your child knows there is nothing to fear when going to the dentist.
Atmosphere
A trip to the dentist can be fun! Our office is brightly colored with movies, cartoons, video games and a super friendly team that loves to work with children.
What our patients are saying
Our kids actually like going to the dentist now! Dr. Matt does a great job reassuring my 5-year-old how important it is to keep her teeth clean. She was very…
Lindsay H.
Read Full Review
Dr. Hillman and staff are amazing. Two of my kids are absolutely terrified of dentists thanks to a bad experience in Lawrence a few years ago, so I was very…
Love Dr. Matt and his wonderful staff. They were able to get my 21 month old AND my 3 year old teeth cleaned and examined all without any tears! Just…
Stephanie I.
Read Full Review
AMAZING!!!! 
We took our 15 month old for his first dentist appointment and the staff was incredible! 
From the phone call to make the appointment all the way until the…