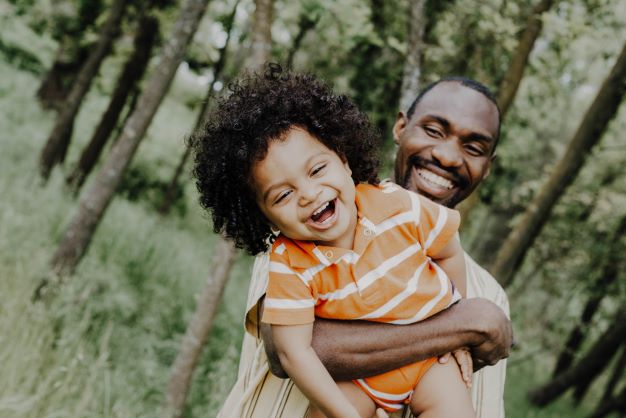 Coincidentally, Father's Day falls in the same month as Oral Health Month and Men's Health Month. So, Dr. Matt and his team have compiled our favorite dental care tips for fathers and their children:
Lead By Example
There's no better role model than you, Dad! It's no secret that your kids watch and learn from your actions. During the early years, participate in your child's oral hygiene routine by showing them the ropes (or tubes of toothpaste and best brushing practices). When you demonstrate good examples of oral hygiene in your household, your children are likely to follow suit.
Take Time to Take Care of Your Oral Health
Life never slows down, and this sentiment is especially true for parents. We understand that it can be challenging to pencil in "me" time with working overtime, coaching your kid's little league team, and so much more. Yet, one way that you can ensure a long, healthy, and happy life is to pencil in moments to take care of your oral health.
Although it may be hard to hear, some gender-based studies propose that men generally take oral health for granted. Furthermore, men are more likely to disregard their oral health, have worse oral hygiene habits, and suffer from greater rates of oral health disease (such as gum disease and oral cancer) as well as dental trauma. Neglecting your oral health is devastating to your smile and can negatively impact your life.
Along with daily brushing and flossing, we recommend seeing the dentist at least twice a year. Regular dental hygiene check-ups and cleanings remove stubborn plaque, the sneaky culprit behind cavities, gum disease, and potentially systemic health conditions like heart disease.
Open Conversation About Oral Health
How often do you talk to your children about how to stay healthy? Father's Day is the perfect occasion to pass on some wisdom about keeping your teeth and gums healthy. Help your child understand the vital relationships between oral health, general health, and quality of life by opening the floor to the following conversations:
Why it's important to brush and floss your teeth every day
The dangers of tobacco and other drugs
How mouthguards can protect your teeth during sports
Why it's important not to use your teeth as tools
Treat Yourself to Cosmetic Dentistry
Father's Day serves as an opportunity to get pampered. If you've pushed off repairing a chipped tooth from an old sport's injury, whitening your teeth, or straightening your smile, seize the day and celebrate Father's Day by scheduling a cosmetic dentistry appointment with a local Overland Park dentist.
Be a Part of Your Child's Dental Appointment
There's a delicate balance to the art and science of fatherhood, but what's most important is that you're there. Whether you realize it or not, your children value the support and input that you provide in their wellness. Research suggests that children generally do better in life when their father actively participates in their lives.
At Smiles Dentistry for Kids in Overland Park, KS, we always welcome fathers who bring in their children for dental visits. (There's no reason to miss out on the fun!) Check out what our children's dentist's office has to offer your family by calling (913) 685-9990 or messaging us online.