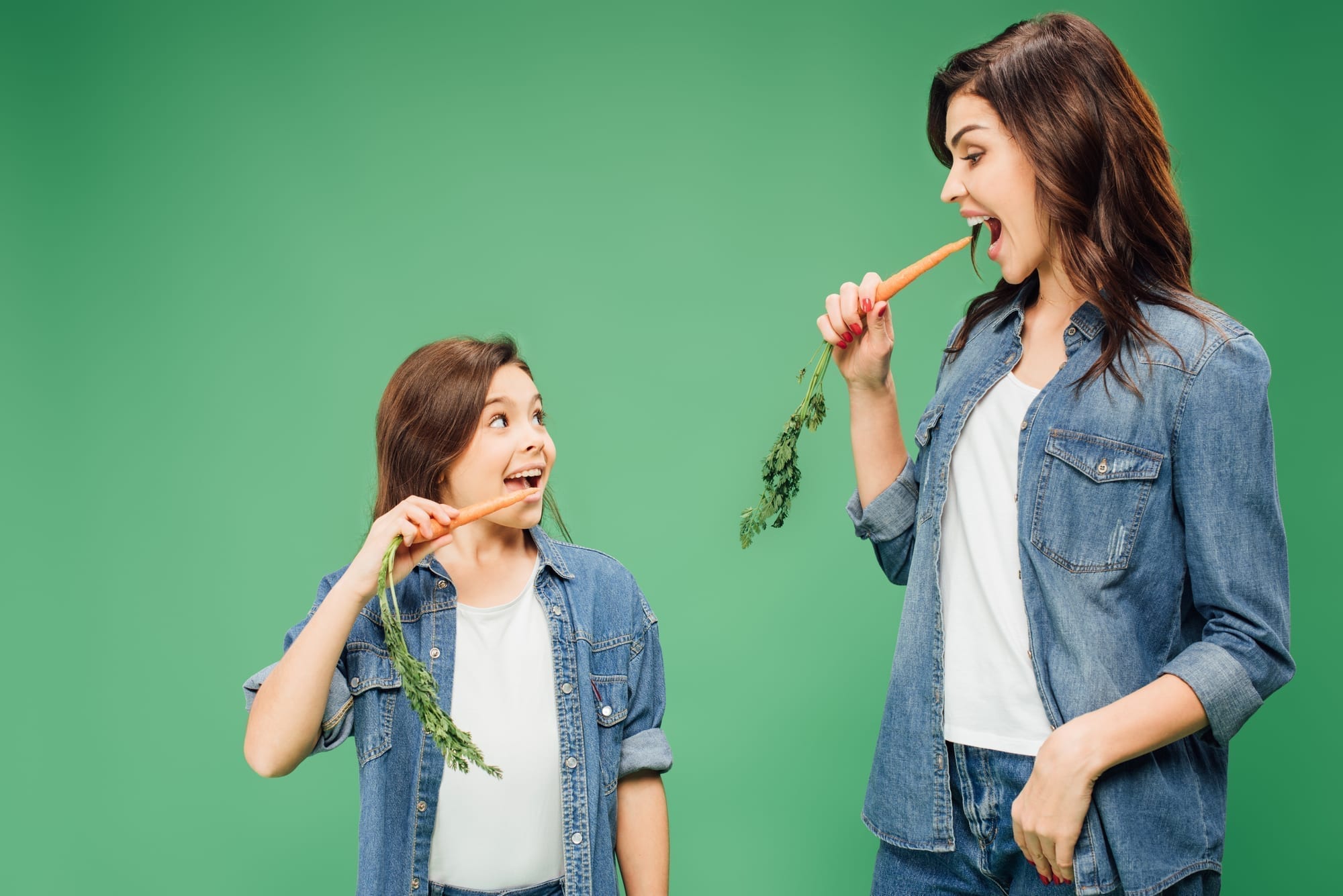 There are few things more satisfying than cutting up and cooking a batch of fresh vegetables. The delicious aroma fills the house, and you know you are providing your family with high-quality nutrients that improve overall health and wellness.
Unfortunately, your little one might not feel the same way. Part of this stems from not understanding the benefits of vegetables for the mouth, mind, and body. Fresh Veggies Day is a great opportunity to educate your little one AND learn new ways to cook vegetables so that your child will enjoy them.
Here are five veggies that improve oral health with tips for how to incorporate them in a kid-friendly way!
1. Onions
Yes, onions. This vegetable that is known to cause bad breath also contains antibacterial and antimicrobial properties that prevent diseases in the mouth and body.
Cooked, sauteed, or roasted onions can be easily incorporated into your child's favorite foods like pizza, burgers, and spaghetti. You may be surprised that it doesn't take much convincing to get your little one to eat this delicious and nutritious vegetable.
2. Carrots
In addition to acting as a natural toothbrush, carrots contain keratin, which fights against plaque build-up, and vitamin A that strengthens tooth enamel.
Raw carrots are the perfect vehicle for any of your child's favorite dips—peanut or almond butter, hummus, ranch, or guacamole.
3. Celery
Like carrots, celery cleans the teeth while it is being chewed. It also encourages the production of saliva which cleans teeth, strengthens enamel, and balances the bacteria in the mouth.
Also like carrots, celery pairs well with almost any dip. It's also easy to cook and add to soups and pasta!
4. Shiitake mushrooms
A 2016 study categorizes shiitake mushrooms as a "caries preventive food" because it contains active compounds that encourage antimicrobial activity.
For parents, convincing children to eat mushrooms can be a difficult task, but this is another vegetable that can easily be combined into dishes like soups, spaghetti, pizza, and casseroles. Most children complain about the texture of mushrooms more than the taste, so adding them to dishes will be your best option!
5. Spinach
Spinach, the vegetable responsible for Popeye's bulging muscles, is rich in calcium, folic acid, and several other nutrients. The calcium in spinach builds up dental enamel and strengthens teeth to protect them from chips, cracks, and wear. Folic acid is a type of vitamin B that helps fight against and treat periodontal disease.
It's highly unlikely that you'll be able to sauté a bunch of spinach, put it on a plate, and not hear groans from your child. However, you may be able to hide spinach in your child's morning smoothie, so he experiences all the benefits without having to taste or chew it. You can do this with kale as well!
Learn More About Kid's Oral Health from Our Overland Park Dentist
Want more oral health tips for your child? Dr. Matt at Smiles Dentistry for Kids loves educating parents and children about how to incorporate good oral hygiene habits into their everyday lives. For personalized tips from Dr. Matt, call our office today at (913) 685-9990 to schedule your child's first visit.