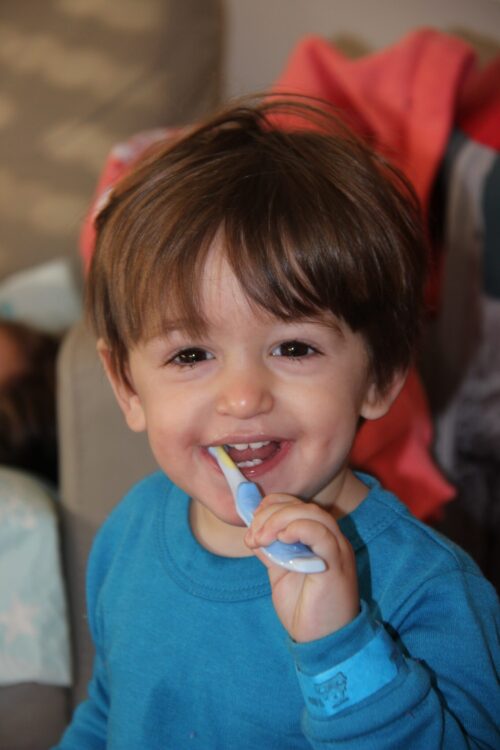 National Toothbrush Day falls on June 26th, and as a parent, you probably understand that daily brushing is crucial to keeping teeth healthy. Still, parents surveyed by Delta Dental admitted that getting their children to brush their teeth regularly is one of the most challenging things they have to get their kids to do. (Brushing teeth even beat helping with household chores and regularly eating vegetables.)
As a leading pediatric dentist in Overland Park, KS, Dr. Matt cares deeply about your child's smile. So, he's here to answer your questions about toothbrushes (and anything else you're curious about as a parent).
How often should I change my child's toothbrush?
Toothbrushes aren't meant to last forever. As your child consistently brushes their teeth, you might notice that the bristles begin to fray and take a new shape. This happens as the bristles weaken, making the brush less effective.
Generally, we suggest replacing toothbrushes every three months. However, if your child has recently been sick, swap out their brush for a brand new one. Even if a brush seems clean with bristles intact, it is a perfect breeding ground for bacteria—especially after illness. So, get rid of a brush after feeling sick to prevent reinfection.
Are toothbrushes unsanitary?
Every time you brush your teeth, you transfer germs from your mouth to your toothbrush. Even though it's uncomfortable to think about, a single toothbrush can hold as many as 1.2 million bacteria as well as yeast fungus, flu virus, and other harmful germs.
While you typically shouldn't worry too much about getting sick from your toothbrush, follow these steps to keep it as hygienic as possible:
Don't share your brush with anyone.
After brushing, thoroughly rinse your toothbrush with clean water and allow it to air dry.
If you want to take an extra step in sanitizing your bristles, dip your brush head in a small glass of antibacterial mouthwash.
Should I pick up soft, medium, or hard-bristled toothbrushes for my family?
As a rule of thumb, pick up soft-bristled toothbrushes for your kids. You might be surprised to discover that brushing too hard with a hard-bristled brush can damage enamel and gum tissue—leading to enamel erosion, sensitivity, and receding gums over time.
Are manual or electric toothbrushes better?
The great debate: manual or electric toothbrushes? While both types of brushes are valuable tools that keep teeth and gums clean, electric toothbrushes are a little bit better for a few reasons:
Electric brushes are more effective at removing plaque and keeping gum tissue healthy
Many electric toothbrushes have built-in self-timers, encouraging young children to brush their teeth long enough to sufficiently remove plaque.
Electric brushes might improve focus when brushing and enhance a person's overall brushing experience.
How should I store my family's toothbrushes?
Counterproductively, some individuals store their toothbrushes in enclosed containers to protect them from bacteria. This habit traps moisture in a dark environment, creating a petri dish for bacteria and fungi to thrive.
Ideally, we recommend storing toothbrushes upright and in a cabinet to limit contamination. Likewise, don't let the bristles touch each other. Brush-to-brush contact spreads bacteria.
Ask Us More Questions At Your Next Kid's Dentist Appointment
Book a children's dentistry appointment at Smiles Dentistry for Kids in Overland Park, KS, if you have more questions regarding your child's brushing habits or oral health. Call (913) 685-9990 or message us online today.