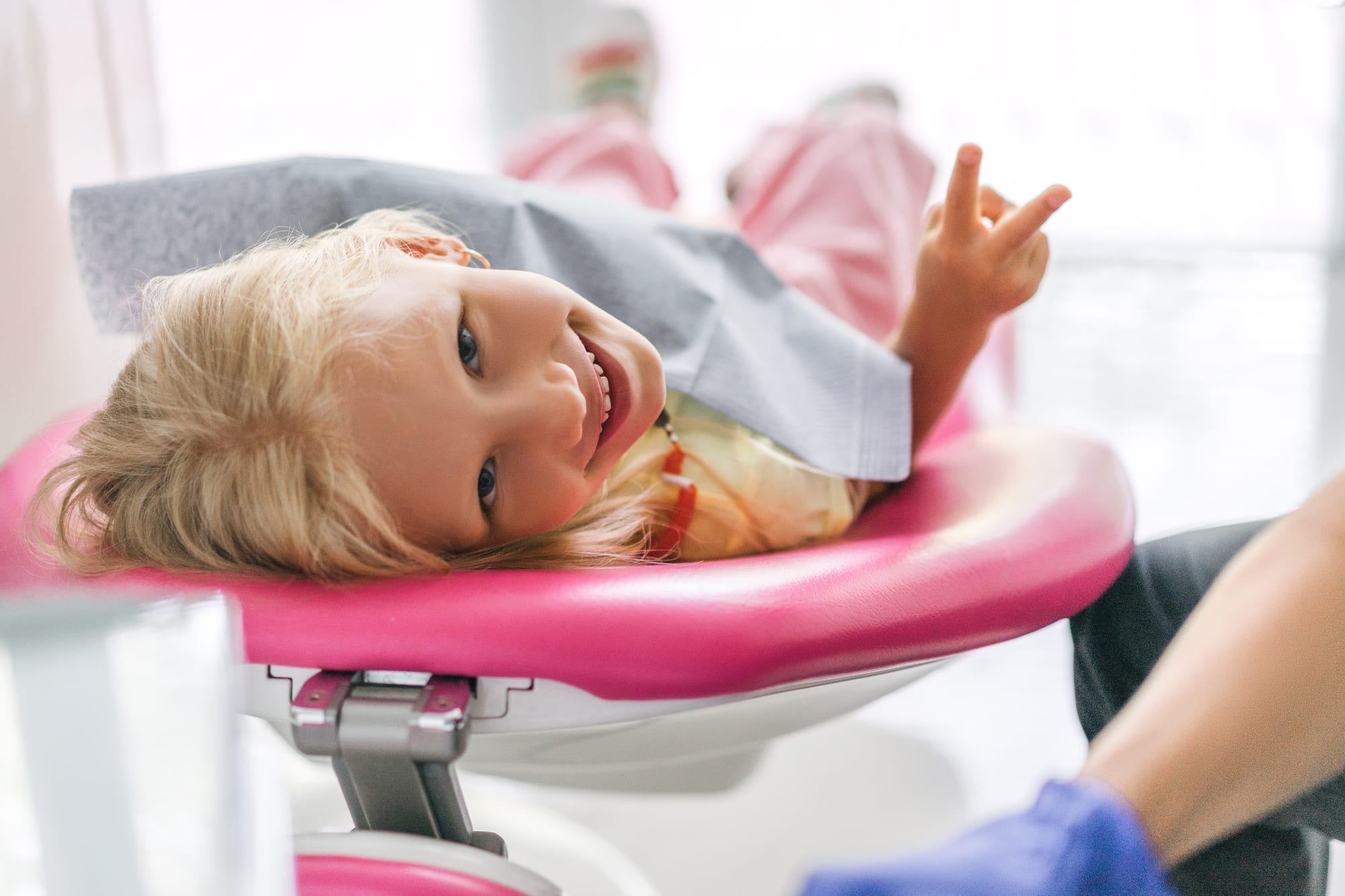 Bi-annual dental check-ups are important for permanent teeth but not necessary for baby teeth, right? Wrong. Baby teeth, also called milk teeth, are essential for helping your child maintain a healthy mouth and body, learning how to speak, digestive health, and good self-esteem. Without proper care, baby teeth can fall out too soon, leaving children with a host of oral, physical, and mental health problems.
Children should begin regular dental visits by their first birthday and every six months after that. These appointments will provide the following immediate and long-lasting benefits for your little one:
1. Plaque- and tartar-free teeth
The key to avoiding cavities (or caries) is ridding the teeth of plaque and tartar. For children who are just learning how to brush and floss, this can be a difficult task. Cavities develop very slowly over time. So, having the teeth thoroughly cleaned every six months, in addition to twice-daily brushing, is one of the best defenses against the growth of dental caries.
During dental check-ups for children, a dental hygienist uses gentle techniques and tools to clean every surface of every tooth. A pediatric dentist may also recommend fluoride treatments or other preventive measures to ensure a child has the best chance of avoiding cavities.
2. Healthy gums
According to the American Academy of Periodontology, children are susceptible to three types of gum disease: chronic gingivitis, aggressive periodontitis, and generalized aggressive periodontitis. Chronic gingivitis is the most common type of periodontal disease in children. Symptoms of chronic gingivitis include:
Inflamed gums
Red gums
Bleeding while brushing or flossing
Bad breath
Gum disease develops when disease-causing bacteria from tartar along the gum line infiltrate the gingiva and attack the soft tissue. Regular dental visits are one of the best defenses against this disease.
3. Track teeth and jaw development
During a dental check-up, dentists keep track of the child's teeth and jaw development to ensure they are growing properly. If not, he may refer the child to an orthodontist. Sometimes, early intervention can reduce a child's need for orthodontics in the future. This also gives insight into what type of oral health problems the child may have in the future.
4. Provide oral health advice for kids and parents
Dental care tips and oral health advice are especially important for new parents but helpful for all. Children require different types of dental care for every stage of development. A pediatric dentist can walk with parents and their little ones through each of these stages, ensuring all of the child's oral health needs are met!
5. Encourage a healthy relationship between your child and dentists
We all know at least one person who is afraid of the dentist. Many of these people can trace their dental fear back to a bad experience they had as a child. By choosing an experienced and compassionate pediatric dentist, parents set their children up for oral health success and ensure their child's relationship with the dentist is a positive one.
Dental Check-ups at Smiles Dentistry for Kids
During dental check-ups with Dr. Matt and our team, children receive high-quality, gentle dental care. We strive to be informative and punctual, so your time is never wasted!
For children under 24 months, the first visit is short, simple, and free. To learn more about our practice, or to schedule an initial consultation, call (913) 685-9990 today.