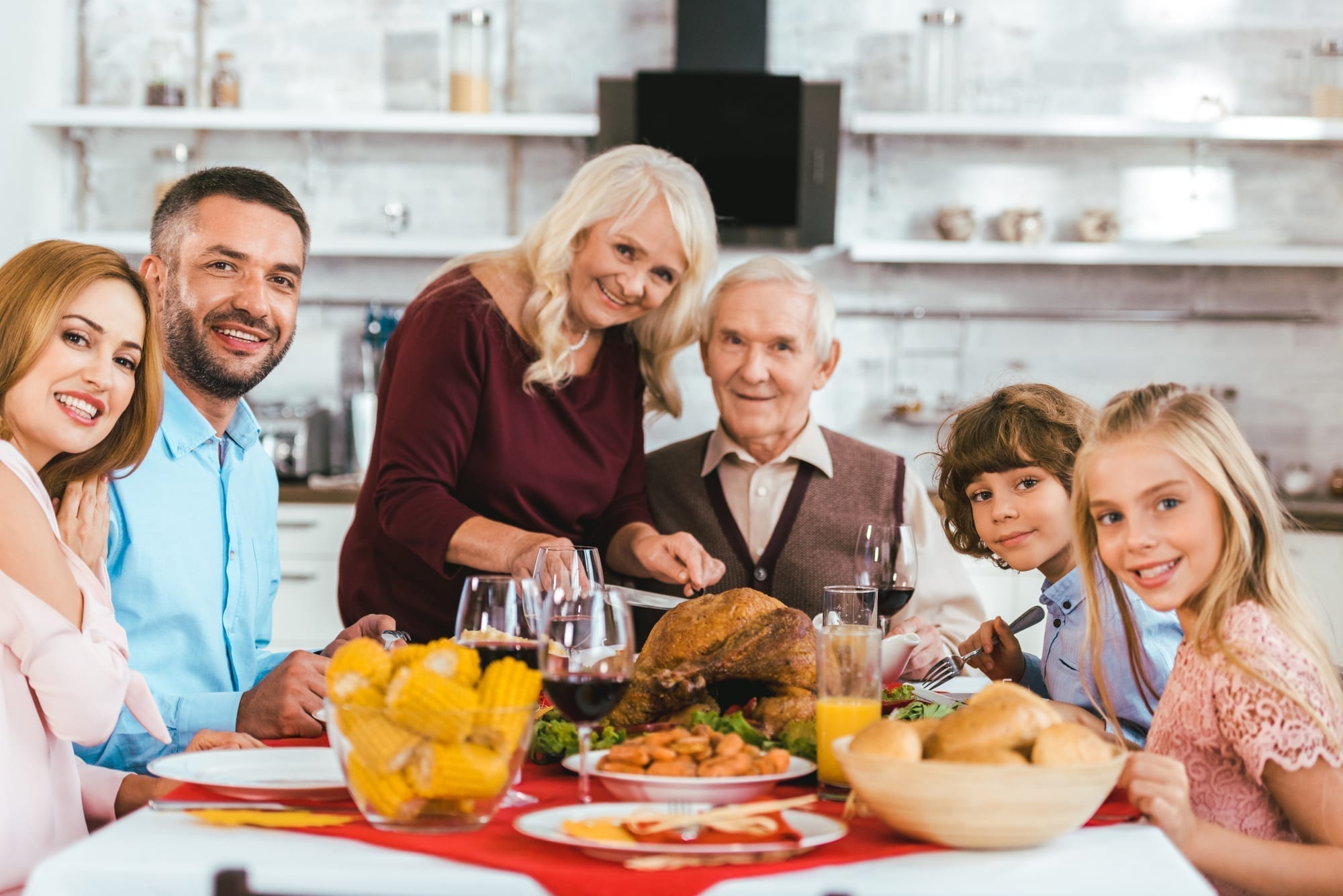 A house full of family, playing games, and eating a traditional Thanksgiving meal are some of our favorite things about the Thanksgiving holiday. While this year may look a little different, we hope that it is just as special!
The Thanksgiving meal is full of old family recipes, favorite family dishes, and foods your little one has probably been requesting year-round. Helping your little one maintain a healthy mouth is just as important as making his favorite Thanksgiving dish. That doesn't mean he has to skip out on anything. In fact, many Thanksgiving staples have oral health benefits.
Continue reading to learn about the benefits of your favorite Thanksgiving dishes and practical tips for helping your family maintain good oral health during the holiday.
The Benefits of Thanksgiving Foods
Most foods have some sort of nutritional value. Here's how popular Thanksgiving foods benefit oral and overall health:
Turkey: This beloved main course is often the star of the show. It is also packed full of protein and low on fat. Turkey contains vitamin b3 which helps support healthy teeth and gums.
Sweet potatoes: For those of us with a sweet tooth, sweet potatoes, also called yams, are a Thanksgiving favorite. They are also full of nutrients that help keep your body and mouth healthy. Of course, yams typically contain loads of butter and brown sugar that may reduce these benefits.
Green bean casserole: Green beans, mushrooms, and onions make this dish one of the most nutritious options at a Thanksgiving feast. Green beans, in particular, are full of vitamins and minerals that support healthy skin, bones, and hair.
Mac and cheese: We all know that calcium helps build strong bones, and there aren't many more delicious ways to get calcium than macaroni and cheese! This is a favorite among children, so just make sure your child is getting nutrients from other sources as well!
Mashed potatoes: Mashed potatoes are full of nutrients that help regulate blood sugar and improve digestion.
Pumpkin pie: The most popular Thanksgiving dessert is pumpkin pie. Apart from the added sugar and whipped cream on top, the pumpkin itself is full of vitamin A which strengthens dental enamel and helps maintain healthy gums.
Thanksgiving Oral Hygiene Tips
The holidays are a time for enjoying and indulging in the good things in life. We won't ask you or your child to give any of those things up! However, we will offer these tips to help your family maintain healthy mouths.
Encourage your little one to brush and floss her teeth more often during the holidays. Brushing after meals is a great habit to keep
The Thanksgiving meal is full of sugar and calories already, so try to drink only water throughout the day. Water helps clean the mouth of food particles, sugar, and other debris that may lead to cavities and gum disease. Your child won't have as much of an after-dinner crash, and you'll feel less bloated!
Portion sizes matter, even on Thanksgiving. Try to fill up your plate with the healthiest options, then when you aren't as hungry, go back for smaller portions of the not-so-healthy dishes.
If possible, spread the leftovers out among family members. This way, you and your family don't have three days of Thanksgiving meals instead of just one!
There's no better way to begin the new year than with a clean and healthy smile. Call to schedule regular dental cleaning appointment for your little one with his or her pediatric dentist. Be sure to do the same for yourself!
Learn More from Dr. Matt
At Smiles Dentistry for Kids, Dr. Matt's goal is to help your child gain and maintain a healthy smile year-round. For more oral hygiene tips, or to schedule a dental cleaning for your little one, contact our friendly team today at (913) 685-9990.