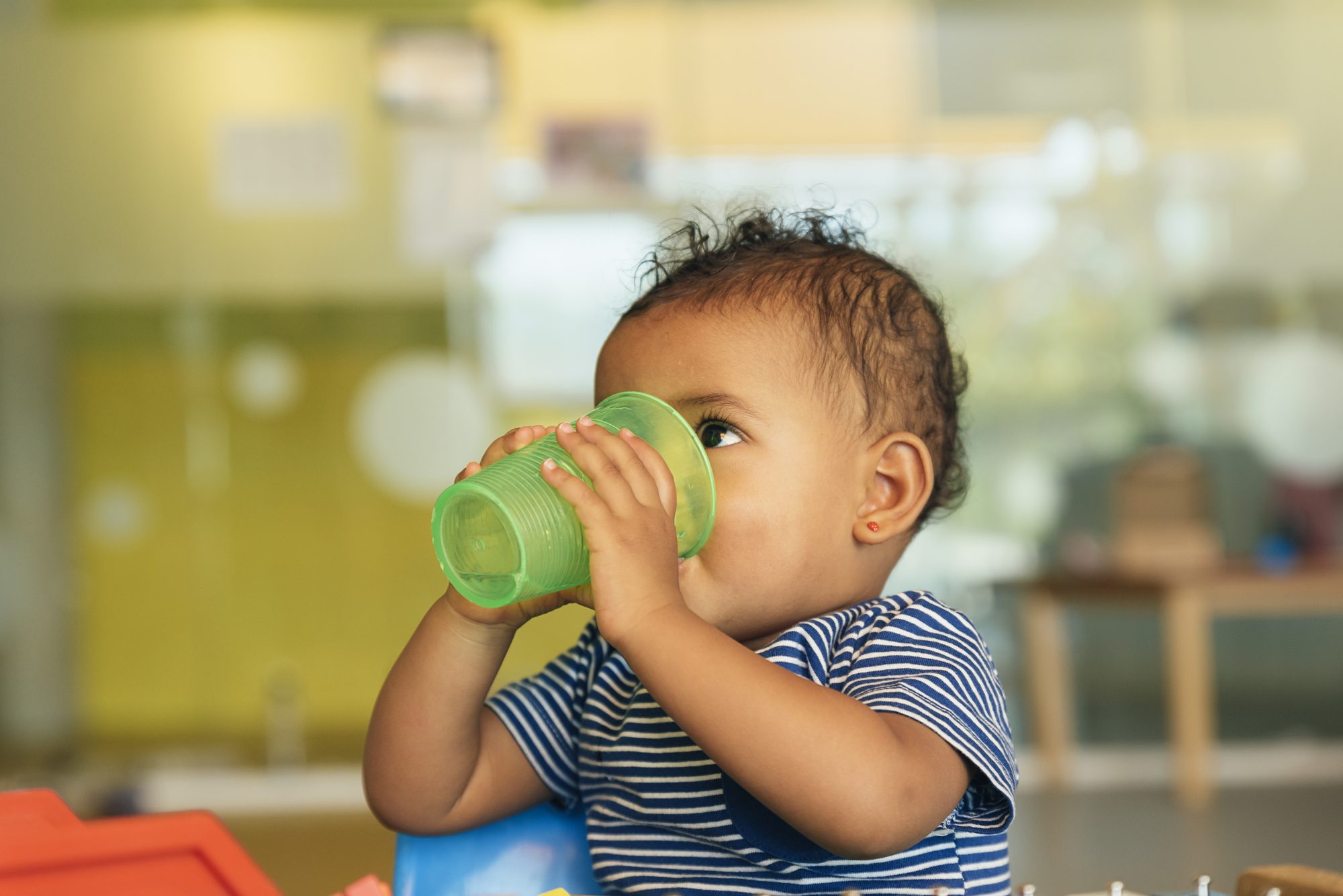 When it comes to staying hydrated and healthy, water is the best option. Juice, soda, tea, milk, and sports drinks all have benefits (well, maybe not soda), but they also have several negative effects. For example, children who drink milk right before bedtime are much more likely to develop cavities than children who drink water at nighttime. Sports drinks, sodas, and juices are also filled with sugars that interrupt the health of the oral microbiome.
While it may take some convincing, it's worth it to get your little one to drink more water! Here are the benefits of water for oral health:
1. Water can strengthen dental enamel.
Since 1945, fluoride has been added to public water systems. Fluoridated water has proven itself as one of the best defenses against childhood tooth decay. When children drink water that contains fluoride, it mixes with saliva and remineralizes and strengthens dental enamel, lessening their chances of developing cavities.
If your child is drinking mostly bottled water, he probably isn't experiencing these benefits! Be sure to find a bottled water that contains fluoride to reduce your child's risk of tooth decay.
2. Water cleans the mouth.
Unlike sugary drinks, water rids the mouth of food particles and cavity-causing bacteria without leaving anything behind. Sports drinks, soda, juice, and even milk leave unwanted sugar and acids lingering on the teeth and gums that can cause cavities.
Water also removes stains that could cause your child's teeth to become dull or yellow. Sugary, dark-colored drinks are one of the most common teeth-staining agents.
3. Water helps the mouth produce more saliva.
Did you know that saliva actually plays a very significant role in your child's oral health? More concerning than your little one producing too much saliva is when he or she isn't producing enough!
Saliva helps us break down and digest food properly and keeps us from experiencing dry mouth (which can be extremely uncomfortable!). The more water your little one drinks, the better she will digest food and avoid dry mouth.
Check out this blog to learn how to help your little one if he or she is experiencing dry mouth.
4. Water doesn't contain any sugar.
Children over two years of age and older should consume no more than 25 grams of sugar per day. Just one apple juice box can contain 23 grams of sugar!
Not only does sugar contribute to cavities, but it also contributes to childhood obesity and Type 2 diabetes. By simply avoiding these drinks, your child's oral and overall health could dramatically improve.
If you want to "spice up" your little one's water to make it more appealing, try adding fruit, such as strawberries and blueberries to give it a little more flavor. Some parents add a small amount of juice to their child's water too.
For more tips to improve your child's oral health…
Contact our friendly dental team at Smiles Dentistry for Kids in Overland Park! Dr. Matt and his team of hygienists are passionate about helping children avoid childhood tooth decay. That's why we offer preventive dentistry methods that are safe and effective and focus on educating our patients and their parents in easy-to-understand language.
Join our family! Call (913) 685-9990 to schedule your child's first visit.