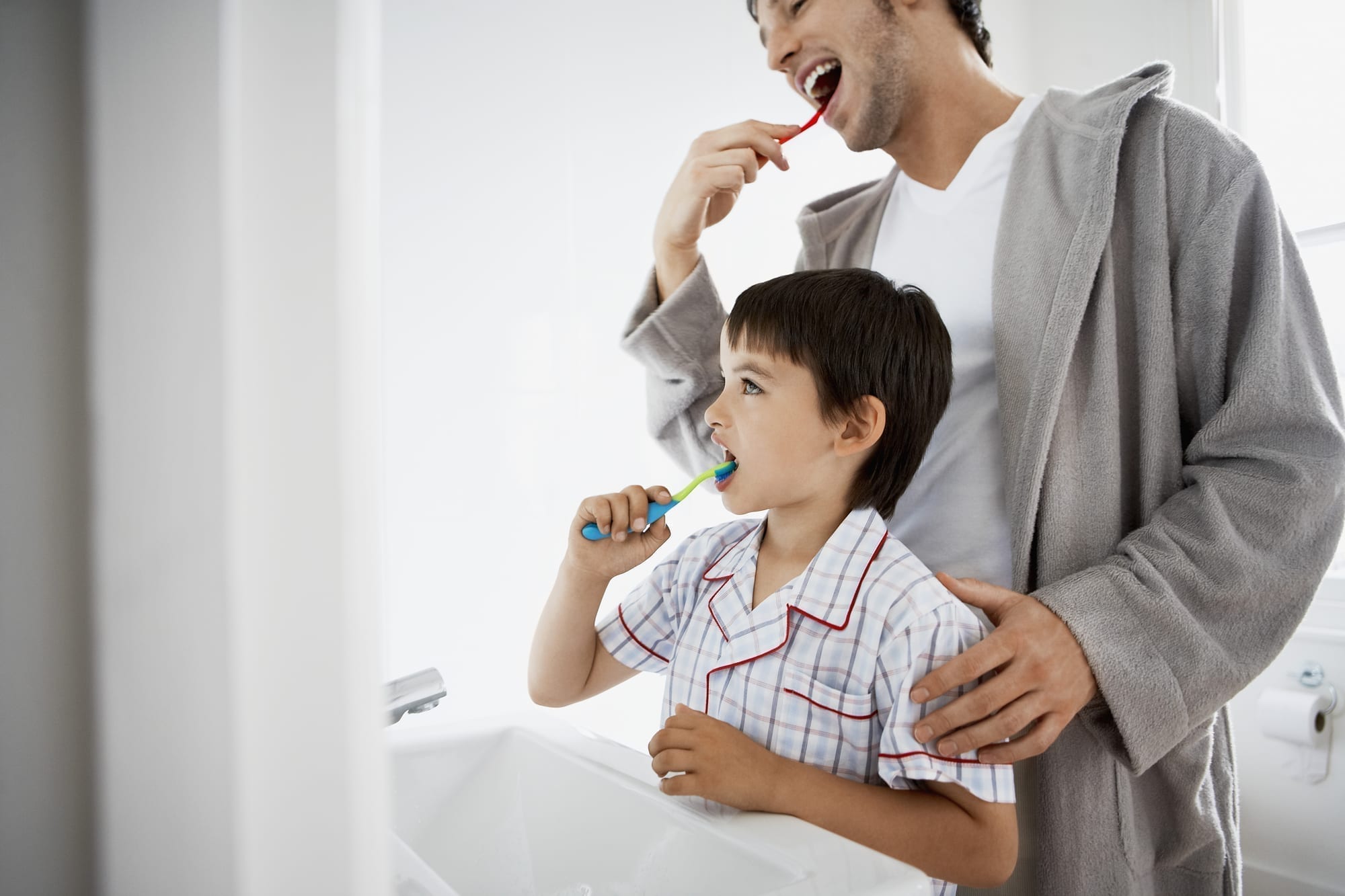 The coronavirus pandemic has certainly changed our daily lives and will continue to do so. Unfortunately, forgoing dental appointments, or not having access to your dentist, could have negative impacts on oral health, but this doesn't have to be the case.
While working from home, you may be more tempted to snack all day, eating foods that aren't so great for your oral or overall health. Although that certainly is okay sometimes, making it a habit could have negative consequences. Some of us may even forget to brush our teeth or to remind our children to brush theirs! Yikes!
To avoid developing cavities, gum disease, and other oral health problems during COVID-19, here are five helpful tips:
1. Set a reminder to brush your teeth
We know this may sound silly, but we also know how hard it can be to remember to brush your teeth once the day gets started. This is especially necessary for people who work from home or whose kids are doing school at home. Children may be especially forgetful!
Many of us wake up in the morning and hit the ground running. If you aren't leaving the house, brushing and flossing your teeth may be forgotten. Add "brush your teeth" to your morning alarm or set a separate reminder for the same time every day. If the whole family is at home, make sure to get your kids involved, too.
2. Drink lots of water
Always have a glass of water within reach while you're working. The same goes for kids. Even if you're drinking another beverage like coffee or tea, keep the water close by. Make sure your children are drinking more water than they are juice or other sugar-filled drinks.
Water is one of the best ways to keep our mouths clean throughout the day. It also helps with saliva production, so dry mouth never becomes an issue.
3. Buy mouth-friendly snacks
Snacks that are full of carbs and sugar tend to be our favorites. However, if you want to keep your mouth and body healthy, look for these alternatives at the grocery store:
Hummus with carrots, celery, and/or peppers
Cheese cubes
Apples and natural peanut butter
Assorted nuts
Sugar-free yogurt with fruit
Your little one will enjoy these as well!
4. Kick bad habits
Nail biting, chewing ice, and using teeth as tools are a few of the worst things a person can do with their teeth. These habits increase the risk for dental chips and cracks as well as cuts on the gums that can lead to disease and infection.
If you need help with keeping your child from biting his or her fingernails, reach out to your local pediatric dentist for advice.
5. Don't be afraid to visit the dentist
According to the American Academy of Pediatric Dentistry, regular dental cleanings and exams are still essential for maintaining good oral health for children and adults. As long as the patient is healthy and wears a mask, he or she should continue to attend their six-month cleanings.
We completely understand being overly cautious during the ongoing pandemic. At Smiles Dentistry for Kids, we've taken every precaution to keep our patients and their families safe which is why you shouldn't be afraid to visit the dentist when it's necessary.
If your child is experiencing dental pain, needs a teeth cleaning, or something just doesn't seem right, don't hesitate to schedule an appointment at our dental office. The same goes for you, mom and dad (we can recommend a local dentist, if necessary)!
Call our friendly team today at (913) 685-9990 to schedule an appointment for your little one with Dr. Matt.