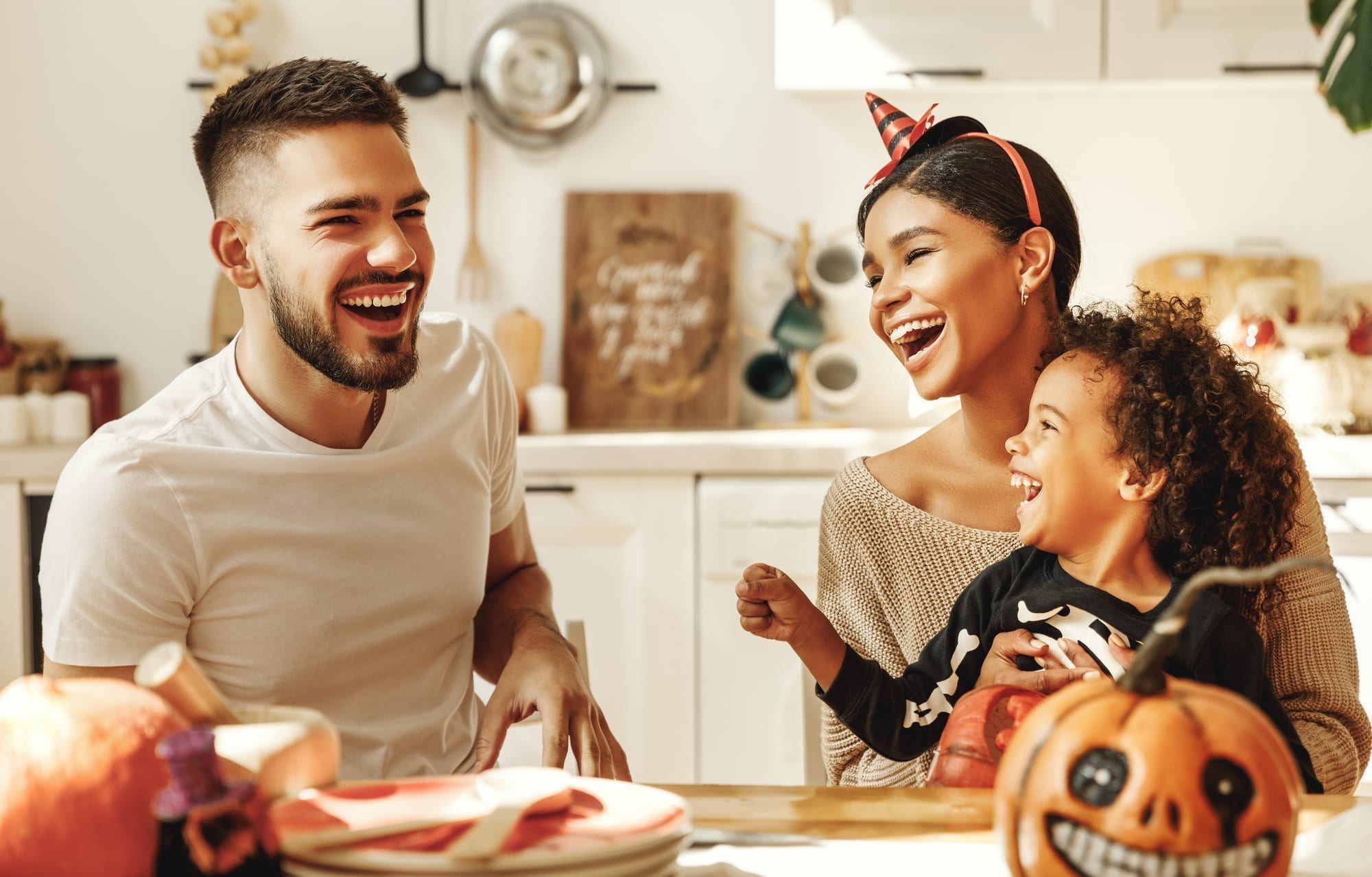 Ghosts, witches, haunted houses, and… cavities? Tooth decay shouldn't be one of the scariest things about Halloween, but for many children, it is! Luckily, there are many ways to prevent cavities from ruining the holidays while still enjoying them to the fullest.
For parents, Halloween can be especially difficult, and with COVID-19, this year may be even more stressful, OR it could be a blessing in disguise. Since so many won't be going out trick-or-treating, you'll have more control of what your child receives in his bucket.
Check out these tips and tricks for helping your child avoid cavities this Halloween:
1. Maintain a proper oral hygiene routine
Slacking on oral hygiene from the end of October through February is one of the worst things anyone of any age could do. There's a big holiday in each of those months and we tend to consume much more sugar (especially the little ones)! The longer sugar sits on the teeth, the more dangerous it becomes.
Brushing in the morning and evening and flossing in the evening will help your child maintain a healthy balance of bacteria in his mouth. To combat the additional sugar and carbs, we encourage our patients to brush after each meal and add a mouthwash to their routine.
2. Make alternative treats
If you're spending Halloween at home, make your own treats rather than buying bags of candy. This is a great activity for the whole family! Here are some delicious and healthy Halloween-themed treat activities:
Clementines and celery sticks (pumpkins)
Bananas and chocolate chips (ghosts)
White chocolate-covered strawberries with mini-chocolate chips (ghosts)
Pineapple, nectarines, whipped cream layered from bottom to top (candy corn cups)
3. Eat more chocolate
Yes, you read that right! Rather than buying fruity, chewy, and sticky candy, buy chocolate instead. Dark chocolate in particular is much better than other candy because it contains polyphenols that reduce bad bacteria in the mouth. Chocolate is also much less likely to stick between or on tops of teeth like jolly ranchers, taffy, and caramels.
4. Drink lots of water
Try to skip out on sodas, juices, and other sugary drinks as much as possible during the holidays—especially Halloween! These just add unnecessary sugars and work against good oral health. Instead, fill your little one's cup up with water that will help clean her mouth and encourage saliva production.
5. Schedule a regular dental cleaning
Dental cleanings are essential to achieving optimal oral health. Children should visit the dentist at least every six months and right after the holidays is the perfect time! During these appointments, the pediatric dentist will check for signs of cavities, dental abnormalities, and other oral health infections. This permits the dentist to treat issues in the earliest stages and prevent more dental problems in the future.
During this appointment, the pediatric dentist will teach your little one to properly brush and floss and provide tips for you, the parent, on how to help your child have a healthy and beautiful smile.
Celebrate Halloween with us!
If it's been a while since your little one has been to the dentist, there's no time like the present! Dr. Matt can help your family start off the holiday season with bright, healthy smiles. At Smiles Dentistry for Kids, our goal is to make dental care kid-friendly, positive, and gentle.
Don't let cavities ruin your holidays. Call (913) 685-9990 to schedule your child's dental appointment today.